During oneg (community lunch at Messianic Churches) yesterday, one of my prophetic friends asked me to build humanity into my main character for the second book of my trilogy. She wants Daniel to be wrong more often, to leave room for HaShem to be right. I pondered her comments, while I reflected on my recent string of errant unpublished predictions. I have become a tremendous slouch as of late. Thus, I've been quietly waiting for something from HaShem to recalculate my wobbly theories.
If you've noticed; I haven't been blogging much lately. And I'm not writing my second book either for I've been humanized. Is HaShem through with me? No. He's correcting me. Once again, her comments have helped me realize that HaShem is in control, and all I can do is comment in retrospect.
With that said, world events could change any day now. The dominoes are falling into place, and the events are ready for a push from HaShem. Before I cite today's news, let's address man's ultimate goal.
"My object in life is to dethrone God and destroy capitalism." —Karl Marx
Man's systems are attempting the impossible, dethroning the omnipotent. Look around you, as you see man come against HaShem, you are seeing every system of man fail. The Satan attempted to overcome HaShem in Isaiah 14, to no avail. HaShem prevailed against the Satan. HaShem will prevail against man (6), man (6), man (6) too.
I believe that HaShem's ultimate goal is a deep abiding shalom between man and his creator. As water purified the earth in the days of Noah, fire will purify the end of days. My theory is that as we near HaShem's Shalom, we should begin to see a harmony of spiritual events and prophetic thought burning like supernatural fires all around us.
Now for today's news (whenever I cite John Kerry, please hiss like you would if I said the name of Haman, from the Esther Story). Our villain, John Kerry (hiss!), would like to divide Israel, under a Blood Moon Tetrad this spring. In 2005, a villain named George Bush, and a dupe named Ariel Sharon, attempted to divide Israel, giving up Gaza and other regions. Within moments of the decision, Hurricane Katrina ravaged New Orleans.
Months later, on 12.18.2005 (17 Kislev 5766), Ariel Sharon went into a vegetative state. Was this a coincidence? There are coincidences with HaShem.
Related news 1.5.2014: Ariel Sharon Nears Death and Prophetic Predictions of Rabbi Kaduri
http://hebrewnationonline.com/blog/ariel-sharon-nears-death-and-prophetic-predictions-of-rabbi-kaduri/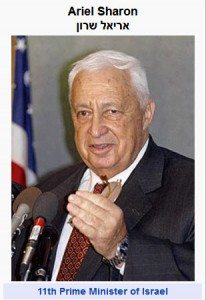 Former Prime Minister Ariel Sharon on Thursday was declared to be in critical condition suffering from multiple organ failure. Sharon has been in a coma since January 2006.

"The situation is currently critical, and his life is definitely at risk," Sheba Medical Center director Professor Zev Rothstein told reporters. "Over the past two days we've seen a steady decrease in the function of critical organs." (Source: Israel Today)
Under Ariel Sharon's leadership, between August 16-30, 2005, Sharon controversially expelled 9,480 Jewish settlers from 21 settlements in Gaza and four settlements in the northern West Bank. After Israeli soldiers bulldozed every settlement structure except for several former synagogues, Israeli soldiers formally left Gaza on 11 September 2005 and closed the border fence at kissufim.
Four months later, On 18 December 2005, Sharon suffered a stroke while heading in a convoy to Havat Shikmim, his ranch in the Negev.

He has been in a coma state ever since.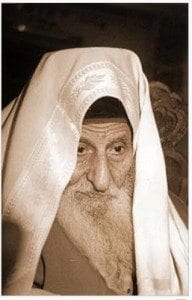 Now enter onto the stage the story of Rabbi Kaduri. Before he passed away at the age of 108, Rabbi Kaduri left a note for us. Per his request, the note was read a year after his death. In it, Rabbi Kaduri states that he met the messiah, who will come shortly after the death of Ariel Sharon. He also said that the name of the messiah is Jesus Christ (Yeshua HaMashiach). Ariel Sharon is currently in a coma, and is nearing death, as his family gathers around.

What will happen next? Will Yeshua soon be coming upon the scene as the nations gather to divide the land of Israel?

Time will tell.
The other link to prophecy: As Kerry Arrives in Israel to Promote Framework, Bitter Cold Storm Hits Northeast US: Are they Linked?
http://hebrewnationonline.com/blog/as-kerry-arrives-in-israel-to-promote-framework-bitter-cold-storm-hits-northeast-us-are-they-linked/
Two weeks ago, we reported to you that there appeared to be a LINKAGE between Kerry's visit to Israel for peace talks and the snowstorm of the CENTURY that swept in upon his arrival. Less than 24 hours previously, on Wednesday, 12.18.13 [note the date!], Kerry had spoken at a Washington DC event and these were his words:
"I've heard all the arguments from all the pundits on all sides," Kerry told an event organized by Foreign Policy magazine.
"The conflict is too frozen..."
Twenty-four hours later, he arrived in Jerusalem, (on Thursday, 12.19.13) to a white winter wonderland of snow everywhere: it was the snowstorm of the CENTURY.
And now EXACTLY TWO WEEKS LATER, we have the SAME SCENARIO playing out yet again. Secretary of State John Kerry arrived in Israel this past Thursday, 1.2.14 to impose the Framework Peace plan. AT THE SAME TIME, a severe weather storm swept the Northeastern seaboard of the United States, with a BITTER COLD SNOW, WIND, ICE storm ravaging the eastern seaboard…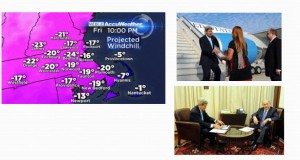 What does it mean? (Commentary from HN News editor)

Could it be that Kerry's visit to Israel to impose the framework peace plan is linked to this Northeast Severe Winter storm?

Could this be Abba warning the nations NOT to divide the land of Israel or else face severe consequences? The fact that we have had not one, but TWO severe winter snowstorms that have coincided with Kerry's arrival in Israel to push, promote, and impose the Framework peace plan, is, in my view, no coincidence. I believe they are linked. And, we need to pay attention to this sign. It is a warning. Proceeding with the peace plan will most assuredly bring down Abba's judgment upon the nations.